SEO keyword research is the foundation of almost any successful SEO campaign. Even when building a new site, it is recommended to conduct research. The aimis to gather comprehensive information about the words and phrases. It will make attracttive as many surfers to the site as possible.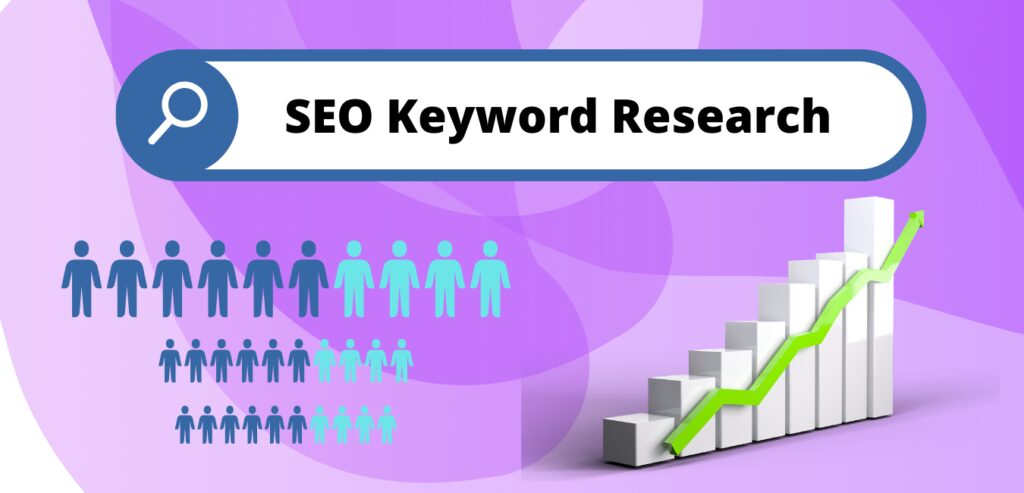 What are the goals of keyword research in SEO?
. There are two way main parameters to measure a website.
A number of people enter it daily (or week, month, etc.)
And the percentage of surfers who perform the desired actions in terms of the site owners .
These are also the goals of keyword research . It maximizes website traffic as well as high conversion rates. The means is to find the words and phrases that are most likely the potential customers of the business. It is founded on base them on the construction of the site and its promotion.
When looking for keywords in all the ways listed below. It is important to remember two things.First, we are not alone on the internet and every site has many competitors. some have a prominent presence for certain words and phrases, and to overcome them for those words will require many resources.
Second, if we attract lots of surfers to the site but most of them. It will leave in a short time. We will eventually lose an improvement in business performance. Then in the long run we will also cause ourselves damage in terms of ranking in Google. In order to ensure a minimum departure and maximum conversion rate. you should choose the keywords that will attract the desired target audience . There is a high chance that they will perform actions on the site. It will help you to SEO Keyword research .
How to create the list of words that we will examine in depth to do SEO Keyword research ?
One set of possible keywords, i.e. ones that our potential customers may search for and therefore should check out in research. In search terms from the field of activity of the business. For example, for a Haifa dentist's website the base of the keyword list is "dental care", "dental care in Haifa", "dental care in the north", "dentist", "dentist in Haifa", "dental clinic in the north", " Displacement in Haifa "," Bridge in teeth "," Orthodontics in the north ", etc.
2.The second group is more specific expressions, also called long tail keyword."Cheap dental care in Haifa", "Painless tooth extraction", "Orthodontics in the north without a bridge", "Haifa root canal treatment price", "Laughter gas in root canal treatment" and " Tooth extraction, recovery. " These are just a few examples of 'long tail keyword' – expressions for which competition is naturally lower. but provide a more accurate response to the needs of the surfer.
3. One way to find such expressions is through GOOGLE SUGGEST. The suggestions that Google provides when we type in the beginning of a query. For example, if we type in the search box only "root canal treatment" . Then Google will offer us phrases such as "pregnant root canal treatment", "step root canal treatment" or "root canal treatment" and they can also be added to the list.
4.In order to get more ideas of possible keywords. You can get inspiration from the competitors. The checking for keywords and phrases they are advertising .You can perform a sponsored advertising test of competing companies through SEMRUSH. It is a tool that is very suitable for conducting competitor research in general . It is also most important in SEO Keyword research .
5.Another source of ideas for keyword research is the KEYWORD PLANNER .It is also a powerful Google tool .It is accessed through the account in GOOGLE ADWORDS . It is also most imortant tolls in SEO Keyword research.
There are other tools for SEO Keyword research. That is worth getting to know and using – both for the benefit of maximizing organic promotion and expanding the list. These are the potential keywords and for a careful examination of each word and phrase.
What tools are recommended for SEO Keyword research?
There is a list of keyword research tolls.
The most popular tool is as mentioned Google Keyword Planner. This tool allows you to expand the list of words and phrases in a number of ways.For example you can provide a phrase and request new keywords related to the same initial phrase. Another option is to ask the planner for all the keywords relevant to a particular category.
Other options worth exploring are the SEO Stack Keyword Tool (UberSuggest plugin) UberSuggest .It offers several hundred possible keywords, a variety of ways to filter the results and more. It may be relevant to the initial keyword you provided.
In addition to all the above tools, you should also be familiar with Google Trends. The main advantage of GOOGLE TRENDS is the presentation of trends .For example, there may be phrases with a relatively low monthly search volume. But in real progress along the timeline. Looking also into the not-too-distant future. Investing in website promotion for these phrases can prove to be very rewarding.
To know more about some tools about SEO keyword research you can view the video .
What is the most significant data for each possible keyword?
Quality SEO keyword research is one that provides maximum relevant information for each word or phrase. We see as the potential for attracting surfers. Among the data that can be obtained from the above tools.The volume of searches per month for each keyword.
It is also worth considering that SEO Keyword research in English is different from research in other language . Because there is a wider range of tools. In any case, it is important to take into account how much there is competition for the expressions. . Alternatively, focus resources on a very competitive expression but also one that will attract many surfers to us.
How to make optimal use of the information extracted from the study?
SEO Keyword research is the basis for a wide range of actions. One action is to add content to the site based on the phrases. That were found to have particularly high potential .For example, if we located the phrase Presumably the possibility of undergoing treatment through a general health fund. So a private dentist would be worth emphasizing its benefits.
Another action might be sponsored promotion for those words and phrases.In particular, you should do same in a situation where competitors' sites are very strong. It is the best way to get around them is an ad on Google AdWords. Another possible action is to build a strategy for organic promotion based on matching phrases to pages. So it was the bigginer guideline in SEO Keyword research 2023.
If you like our information please let us know by you important comment . Thank you very much for you important time .